Documentation
You want to get to know newsroom in detail? Your IT department has specific detailed questions?
You're looking for guidance for your colleagues? You'll find answers on this page.
Wiki & Tutorials
Here you will find our extensive manuals as well as a wiki with all the information you need to use newsroom.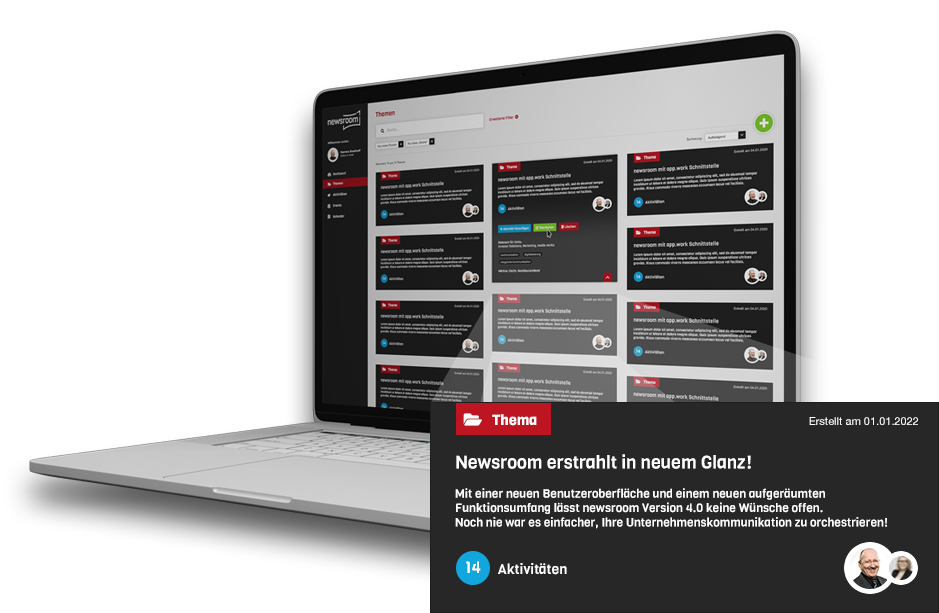 Questions & Answers
The following is a selection of the most common questions we are asked about newsroom. These include, general questions, technical details and information about data protection.
General questions
In this section you will find answers to general questions about using newsroom.
Which newsroom version does my company need?
We offer three newsroom versions: "Studio," "Atelier," and "Campus.
"Studio" is optimal for small and medium-sized companies, municipalities, associations and agencies with up to 30 users. Potential users include employees in the communications department as well as members of management. We have developed a compact solution for anyone who finds planning communications activities and events with spreadsheets suboptimal and is looking for a practical tool for planning, producing and publishing communications content from a single source – one that also fits small budgets.
"Atelier" is designed for medium and large companies, administrations, associations and agencies with complex structures. This version provides the framework for managing demanding tasks in integrated communications with more than a handful of formats, channels and target groups. It combines the work and ideas of communications departments and specialist functions as well as market managers.
"Campus" is designed for large and globally operating companies, administrations and associations with complex structures as well as agencies with an internationally oriented customer portfolio. In intensive dialog with the practitioners at media.works and Enodia Software, a customized framework is created for the confident management of the most demanding tasks in the planning and control of integrated communications and newsrooms. This enables transparent and efficient exchange between communications and specialist departments, market managers, event managers, marketing functions and key account management, as well as top management. Skillful orchestration makes effective use of resources – and creates scope for creative content development.
What does it cost to use newsroom?
"Studio" is available from 29.90 euros per user and month. Example: Ten users cost 299 euros per month or 3,588 euros per year – including server and software updates. There is no comparable offer for this price.
"Atelier" is available from 49.90 euros per user and month. Example: For 35 users, we ask 1,746.50 euros per month or 20,958 euros per year – including server and software updates and up to 60 hours for consulting, training, support and service per year. That is less than a third of the average personnel costs for an employee in the communications sector. This sum pays for itself very quickly, for example, by avoiding duplication of effort and costly firefighting operations through high transparency.
"Campus" starts at 69.90 euros per user and month as an orientation price. The actual price is determined individually per customer for the customized version. Example: An international corporation wants to host newsroom on its own server, activate SSO ("single sign-on"), and individually create various interfaces to content management systems (CMS) and social media channels. More than 200 users are active in the system. In this case, the costs in continuous operation are also below 69.90 euros per user and month due to a discount for large numbers of users. However, there are also one-off costs for the individual embedding of newsroom in the comapnys's software landscape.
Can I buy newsroom?
No, newsroom is provided exclusively via a license model. This is the best way to use newsroom individually with a high degree of flexibility and eliminates the maintenance effort for the customer.
Are the hosting costs for newsroom included in the offer?
The external hosting cost yes, the cost of an internal hosting by its nature can not be. In the case of internal hosting, the license fee remains unchanged.
.
Is there a usage contract/agreement?
As a rule, our customers have standard contracts with their IT and purchasing departments that regulate the use of newsroom. If this is not the case for you, we will be happy to send you our sample contract.
How long is the contract period for the use of newsroom?
The standard contract term is one year, which is extended by one year at a time without notice. Separate agreements are possible for the "Studio" and "Campus" versions. Price reductions are possible for longer contract terms.
Is there a service level agreement or support agreement in place?
As a rule, we define these individually with each customer. As a standard, we offer chat support, which is available on weekdays during office hours 09:00 to 17:00. In the "Atelier" version, an e-mail service with a callback option is added, and in the "Campus" version, embedding in a customer helpdesk system is also possible.
Do you have a confidentiality agreement?
Yes, we will be happy to send this to you on request. We can alternatively sign a corresponding agreement from your company.
Does newsroom need to be installed on the PC/laptop?
No, newsroom is web-based and can be used via any common web browser (e.g. Edge, Chrome, Firefox).
Can newsroom be hosted on one of our company's servers?
Yes, but only in the version "Campus". Just talk to us, we will find a solution together.
Does newsroom also offer single sign-on (SSO)?
Yes, but only from the version "Atelier".
We can offer an SSO solution for "on-premises hosting" as well as for hosting in our data center. Please simply contact us about this. Then we will clarify the details and provide you with an offer. Possible are connections via Active Directory (internal hosting), SAML or Microsoft Azure.
Is there rights management in newsroom?
Yes. newsroom is designed in principle for high transparency of planning and content for all users, but at the same time offers a clear rights structure. This is mapped in five "roles":
The "Administrator" has full access to the entire system (including backend) and all data. This role is only available to the development team at Enodia Software or customer support through media.works.
"Editor-in-Chiefs" have access rights to all functions in the backend relevant to manage newsroom (e.g. entries in the tag list, mapping of the organizational structure, user profiles, event and activity types) as well as all functions in operations (e.g. creation of new topics, activities, assignment of tasks to "owners").
"Editors" have access to their own profile settings as well as their own tasks. For example, an editor can create new activities and events and edit them, but cannot create new tags or topics or assign tasks to other "owners".
A "Vistor" has read-only rights in the system.
Can I create content in newsroom that not everyone is allowed to see?
Yes, we use the newsroom principle that one or more "owners" must be assigned to each topic. A click on "Confidential" makes the topic and the associated campaigns, activities and events visible only for the defined "owners" – all other users do not know that the topic and its campaigns, activities and events exist.
In which languages is newsroom available?
We offer newsroom in German and English by default. Other languages can be implemented in the "Campus" version on request.
Can I create content in newsroom?
Yes. newsroom can be used to plan and produce any number of content types ("activity types"). Corresponding templates are stored for the production of content. If required, further templates can be individually developed and provided (available from the "Campus" version).
Can I approve content in newsroom?
Yes. In the content creation area, newsroom users as well as "experts" can be invited to review content, e.g. for technical or financial details as well as citations used, or to contribute to the content of an activity.
Can I publish content directly from newsroom?
Yes, out of the content creation area. The standard interfaces include e.g. WordPress, Swat.io and beekeeper. Other interfaces can be programmed on request ("Campus" version). All versions have a PDF and Word export function for text content as well as a standard template for digital channels.
newsroom "Campus" is the best option for the extensive publication of content, as here the interfaces are individually adapted to the content management systems (CMS) used. Experience shows, for example, that even common systems such as WordPress or Typo3 in the respective application in companies or organizations sometimes differ significantly – so the individual adaptation per customer is the most sensible and ultimately the most effective. We are happy to advise on this.
Can I map communication processes in newsroom?
newsroom has a status selection and display in all versions. There are three process groups: "Start", "Edit", "Finish". Each group can contain two individual process steps and color codes, for example: "Proposal for conference", "Proposal accepted", "In progress", "1st vote", "management vote" "Prefinal", "Final", "Finished". Correspondingly, newsroom displays the current status with a corresponding color code for each topic, campaign, activity and event, as well as for all tasks. This makes it possible to see at a glance where something is still "stuck" or whether everything is "green".
Can I export appointments and tasks from newsroom?
Yes. newsroom has an export function to MS Outlook starting at the "Atelier" version.
How will I know when there is new information for me in newsroom?
newsroom offers various information channels:
Comments can be attached to each activity in a kind of "chat function"
.
In addition, newsroon contains a "notification" tool that displays all information relevant to the individual user – e.g. new tasks, changes to existing activities, new comments, status changes, etc.
Experts" or "translators" assigned to newsroom tasks receive a corresponding e-mail with a link that leads directly to the task.
Can I create or activate external users in newsroom?
This is possible without any problems in the newsroom versions hosted by us – for example, employees of commissioned PR agencies can be seamlessly integrated as "editors" or translation service providers as "translators". In the case of newsroom versions hosted by customers themselves, the integration of external users can be problematic or even impossible due to firewall settings.
.
Do I have to configure and set up newsroom myself?
newsroom is designed in such a way that any user group can set up the system without any special prior knowledge. But of course, the newsroom team at media.works will support you in setting it up.
In practice, it has been shown that a one-day practical workshop with up to ten participants, is the most eficient way to optimally adapt the respective newsroom version to the processes and workflows of the respective organization.
Are there trainings for newsroom users?
newsroom is designed in such a way that users can quickly orient themselves and get started immediately without any special prior knowledge. Our credo is "You can't go wrong in newsroom!". But of course we offer newsroom web trainings as well as on-site training sessions.
Is there also a "hotline" for newsroom?
A chat function is integrated into every newsroom version, allowing users to easily reach the media.works team at any time to clarify questions directly. In the "Atelier" and "Campus" versions, we offer extended service packages – right up to integration in helpdesk support systems at large companies. Just contact us to find out which solution is best for your company!
Technical details
In this section, you will find answers to technical questions about using newsroom that are primarily relevant to your company's IT department.
How do you ensure the security (availability, confidentiality and integrity) of the information in the software?
We ensure availability, confidentiality and integrity via the technical and organizational measures for newsroom and the technical and organizational measures of the data center. We will be happy to provide you with both documents on request.
Is the software being further developed and kept technically up-to-date to ensure long-term usability in a technically changing environment?
Yes. Smaller updates are installed every 2 weeks. Larger updates, which for example contain new functionalities for the users, are installed in accordance with our customers.
How do you ensure that unauthorized persons do not gain access to the data in the software?
Access to newsroom is enabled via an encrypted channels (https) and via access controls (username/password). newsroom writes every failed login attempt to a log file. If there are repeated failed login attempts for a valid username or account, after the fifth attempt the account is deactivated for a period of five minutes and the administrator is informed.
In addition, the technical and organizational measures of the German TÜV-certified data center we use come into play.
.
How is data backup organized?
The data backup is done continuously with full backups. The backup is stored twice in each case. If there are further requirements here from customer side, these can be set up.
Full backups of the server are created every 24 hours.
In addition, full backups of the database are created before updates are applied. In consultation with the customer, further backups can be created.
.
Where is the backup stored? In the same building(s) as the servers?
The backups are stored in a secure, off-site location. The backups are available online from anywhere. A restore is possible via us or the data center during normal operating hours.
How long does it take to restore the database after a server failure?
This depends on the cause of the server failure, so we cannot make a specific statement here. If you need more information on this, please contact us and we will clarify your questions together with the provider of the data center we use.
.
How far back does the backup go?
Internally: Data and changes are traceable to the beginning of the system (archive function).
The server backups are each available for the past 14 days.
How is continuous accessability to newsroom ensured?
The data stored in newsroom is located on servers in a German TÜV-certified data center or in a data center designated by the respective customer. Accordingly, availability levels are close to 100 percent; in addition, the connection to several network nodes is ensured. If internal hosting is desired, the SLA times agreed with or commissioned by the respective customer will apply.
Is permanent monitoring of server availability guaranteed so that countermeasures can be initiated immediately in the event of a malfunction?
What was the actual availability of the application in the past?
Can individual files/entries be restored?
No. Once entries have been deleted, they cannot be recovered.
How much volume is available to store data?
On the server: We currently have 20GB defined as the limit. The limit can be individually set in consultation with the customer.
In newsroom: File size is limited to 5MB per file. The file size can be adjusted individually after consultation.
What happens when the available data volume is used up?
The customer receives a notification when 80% is reached. The purchase of additional data volume is possible by arrangement.
How would updates and new releases be provided and applied in the case of "on-premises hosting"?
We need the (usual) access to the administration of the server to install updates. Accesses are made from static IP addresses and can thus be allowed with appropriate firewall rules. Ideally, we receive a VPN connection for this purpose, so that we can also access the application in case of support.
Which database is to be used for "on-premises hosting"?
MySQL Server and PHP from version 7.2.
Do firewall rules need to be adjusted for "on-premises hosting"?
For "on-premises hosting" the IP addresses of media.works and the update & license server must be shared, ports 22 / 443 (SSH access and HTTPS).
What hardware requirements are necessary to use "newsroom"?
We recommend:
– Memory: 16 GB RAM
– Hard disk: 10 GB HDD
– Processor: current generation, e.g. Intel Quad Core Xeon E5
– Monitors: Full HD resolution
What software requirements are necessary to use newsroom?
newsroom can be used in the most popular Internet browsers, i.e. Safari, Chrome, Firefox, Explorer and Edge – in each case in the latest versions.
Are further installations such as JAVA necessary on the client side?
No additionally installed software is required on the clients.
Can 2-factor authentication be set up?
2-factor authentication is possible by individual arrangement.
Which technology is used to design interfaces to newsroom?
In principle, it is possible to connect any system to newsroom, since newsroom is usually the "leading" system. We offer SOAP and WSDL as APIs. Standard interfaces are available, for example, to the employee app Beekeeper and to dpa-Agenda.
Is newsroom Unicode-capable?
Data protection
In this section you will find answers to questions about data protection and newsroom.
What personal data is collected in newsroom?
– Username, e-mail address, first and last name, time of entries
– Voluntary information: other first names, job title
– When creating entries, the username and time are logged.
Where and how long is this data kept?
Until the database is deleted.
What protective features does newsroom offer to help prevent data breaches?
Access to newsroom is only possible with a personalized log-in. Users can only be created by an administrator. In addition, you will be assigned appropriate permissions. Only administrators have access to the user directory.
Is there a code of conduct on data protection?
Yes. We have set up a corresponding data protection management system at our company, which includes, among other things, a general data protection guideline.
What technical and organizational measures have you implemented to protect our data?
We have compiled an extensive list of our technical and organizational measures. We will be happy to provide this to you on request.
What is the authorization concept of newsroom?
In newsroom there are the roles Administrator, Editor-in-Chief, Editor and Visitor, and in the content creation area Experts and Translators. Administrators from Enodia Software and media.works have full access to the backend of the system. An Editor-in-Chief can make all changes in the backend necessary to control the day-to-day work and organizational structures. Editors only have access to their respective user profiles in the backend. Experts and translators only have access to their respective user profiles and the tasks assigned to them; they cannot see any planning data in the system.
How is it ensured that users only have access to information for which they have access rights?
The personalized login ensures that only authorized users have access to newsroom. In addition, each user is assigned corresponding authorization with his or her role in the system. These can be further restricted by assigning them to a unit or a market. These settings are managed centrally by an administrator.
How is it ensured that unauthorized users do not create, modify or delete information?
The personalized login ensures that only authorized users have access to newsroom. Users are created and managed centrally by an administrator or, depending on customer requirements, Editor-in-Chief. In addition, an Editor-in-Chief can change or delete topics, events, activities in the frontend and structural information such as units, tags, markets, languages, etc. in the backend. Editors can only change or delete the topics, events or activities for which they are entered as the "owner" and have thus been given the corresponding rights.
What are the server locations?
The servers are located exclusively in Germany.
Is data transmitted encrypted?
Yes, using SSL encryption.
Is it ensured that data from newsroom can be migrated or exported to another tool at the end of the contract period?
Yes, after termination of the contract we allow further access to the system for three months. However, data can then no longer be entered, edited or deleted (read-only access). Data exports are possible, e.g. via Excel or Word. After the expiration of the three months, the data will be irrevocably destroyed according to the data protection guidelines, including the backups (as far as technically possible).
Which data would be taken out of newsroom for such a migration and which data would be inevitably deleted?
In principle, all data can be migrated. There may be restrictions in the versioning of content. However, the content itself can be exported to a standard database format (e.g. Excel) or as content files (e.g. Word). The respective customer is and remains the owner of the data. media.works provides the application for data processing through newsroom.
Is it possible for us to check/audit compliance with the agreements/statements made if necessary?
We would be happy to assist you with an appropriate audit.
Further questions?
Chat with us! Just click on the chat icon in the lower left corner of the screen.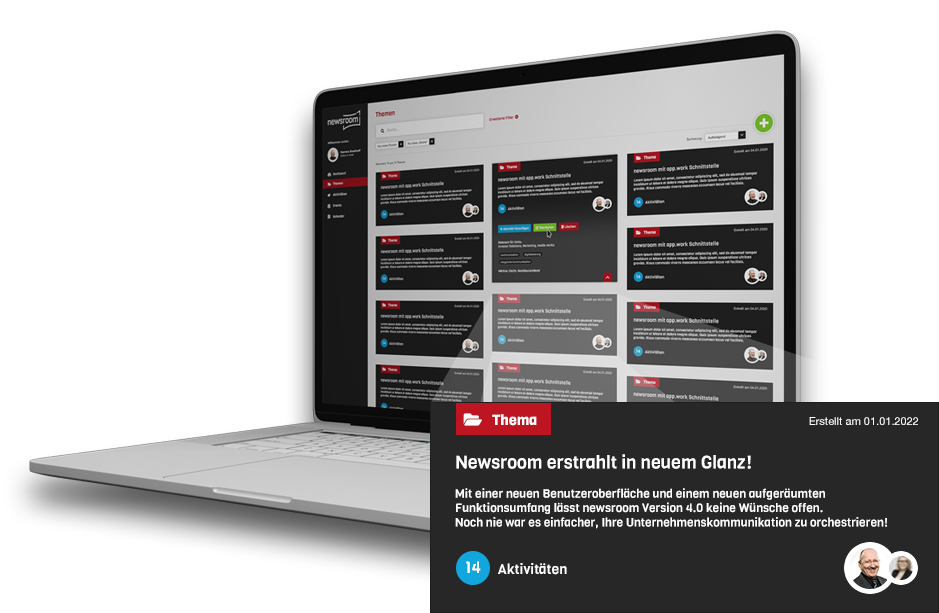 Request a free product demo now!