Feature overview
This page gives you an insight into the features of newsroom. Find out how the use of newsroom makes your everyday work easier.
Transparency and Structure
Work with all communicators in your company in a joint editorial plan. Have the relevant content displayed for you and discuss your communication activities together in editorial meetings. Tailor newsroom specifically to the needs of your company and thus determine the success of your communication activities.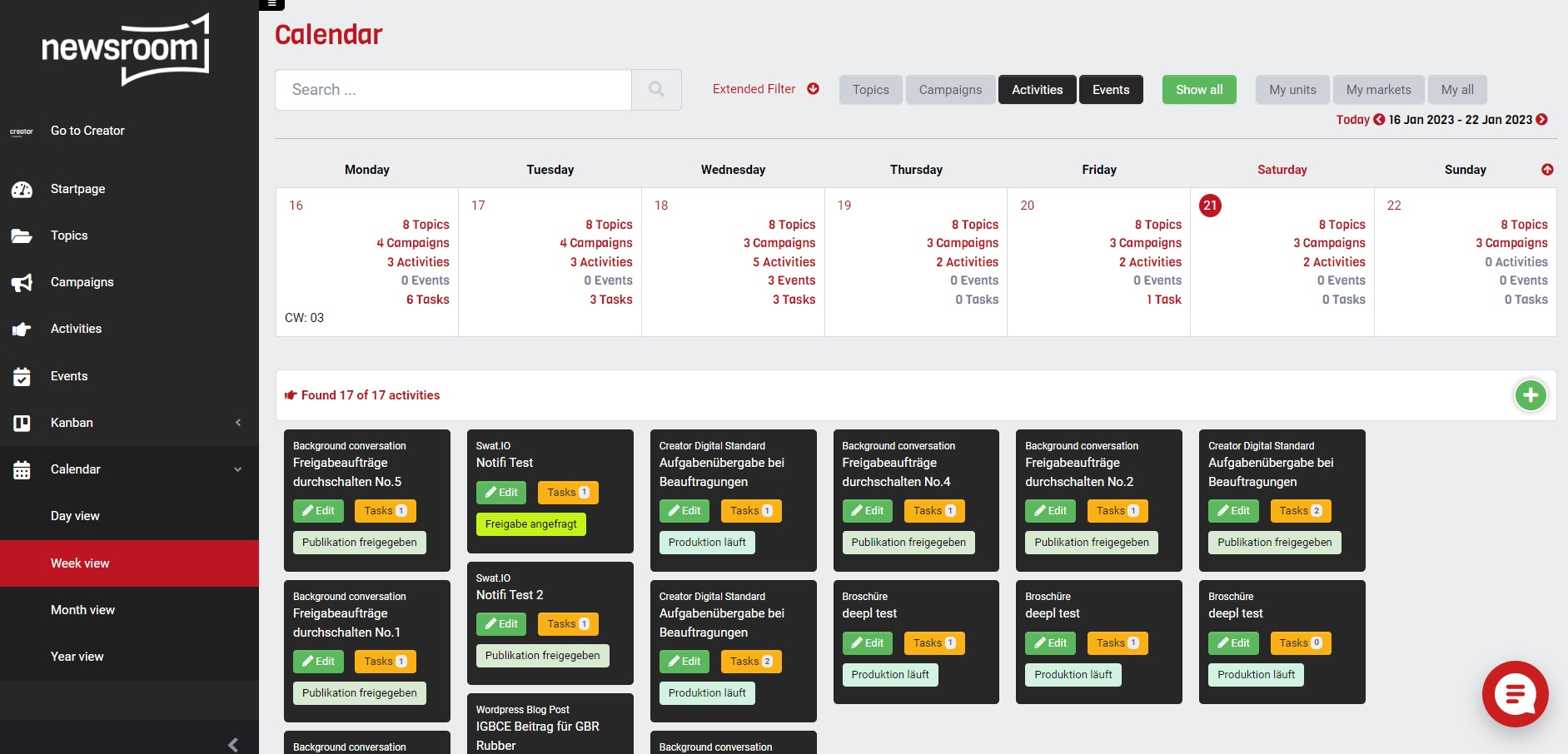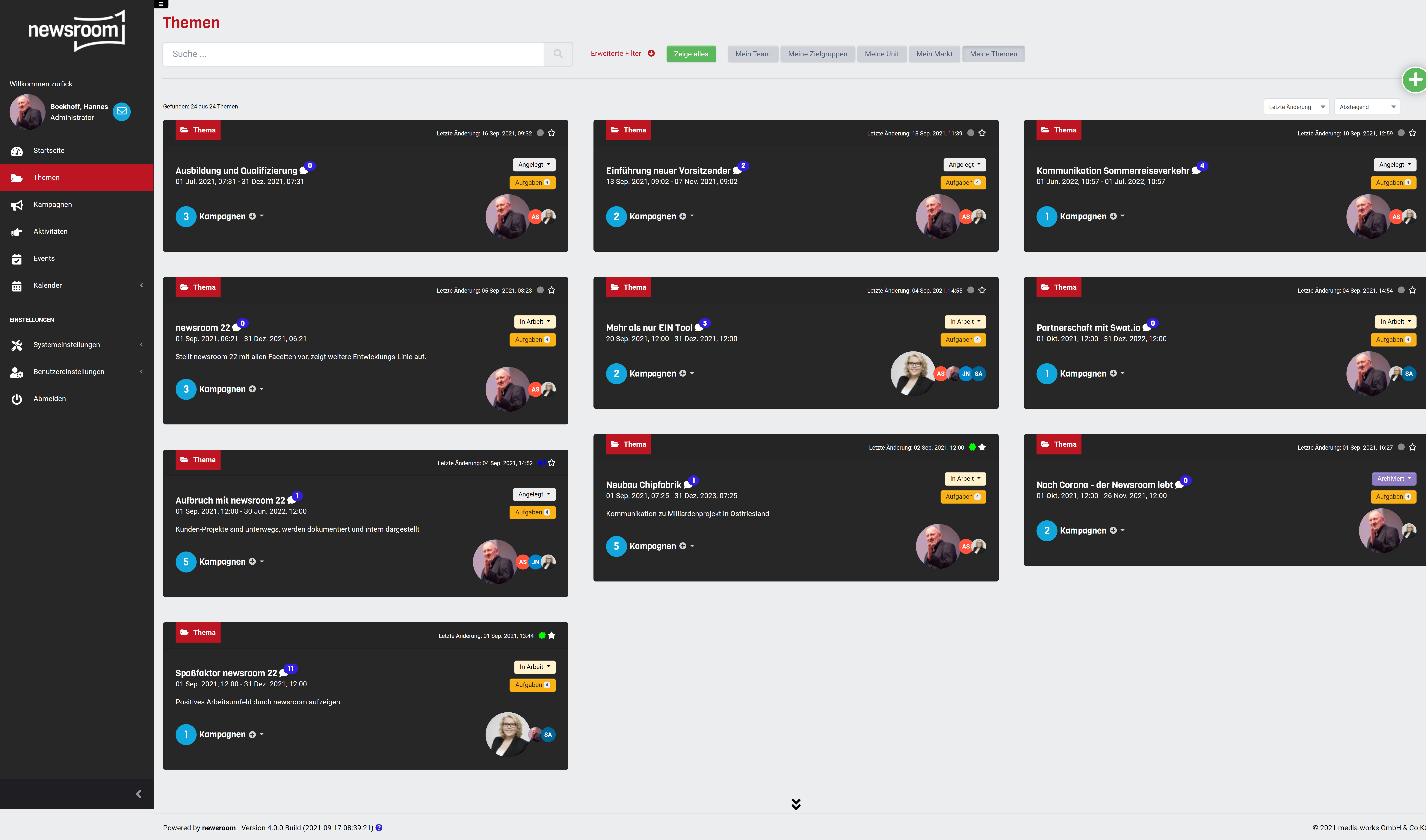 Topics and contents
Plan topics and create content across departmental boundaries. Coordinate with each other and achieve more effectiveness for your communication activities. Use tasks to work together and inform colleagues in markets and other units.
Integration and inspiration
Create, edit, coordinate, translate, share and publish content in a structured way – all in one system and step by step.
Produce content. Invite colleagues to collaborate or to read back. Drag and drop existing content from other posts and adjust it as needed.
Involve experts to review content. Share posts yourself or get an OK from the executive floor or legal department whenever necessary.
Request translations from machines or humans. Involve colleagues in foreign-language markets.
Publish yourself, automatically, or ask channel managers – wherever in the world they can be found. All in one system.

Tasks and views
Keep track of all to-dos or just your own with newsroom's integrated task management. Use newsroom to assign tasks to yourself or your teammates for activities and events. Use the integrated Kanban boards adapted for communication planning to control and monitor your tasks.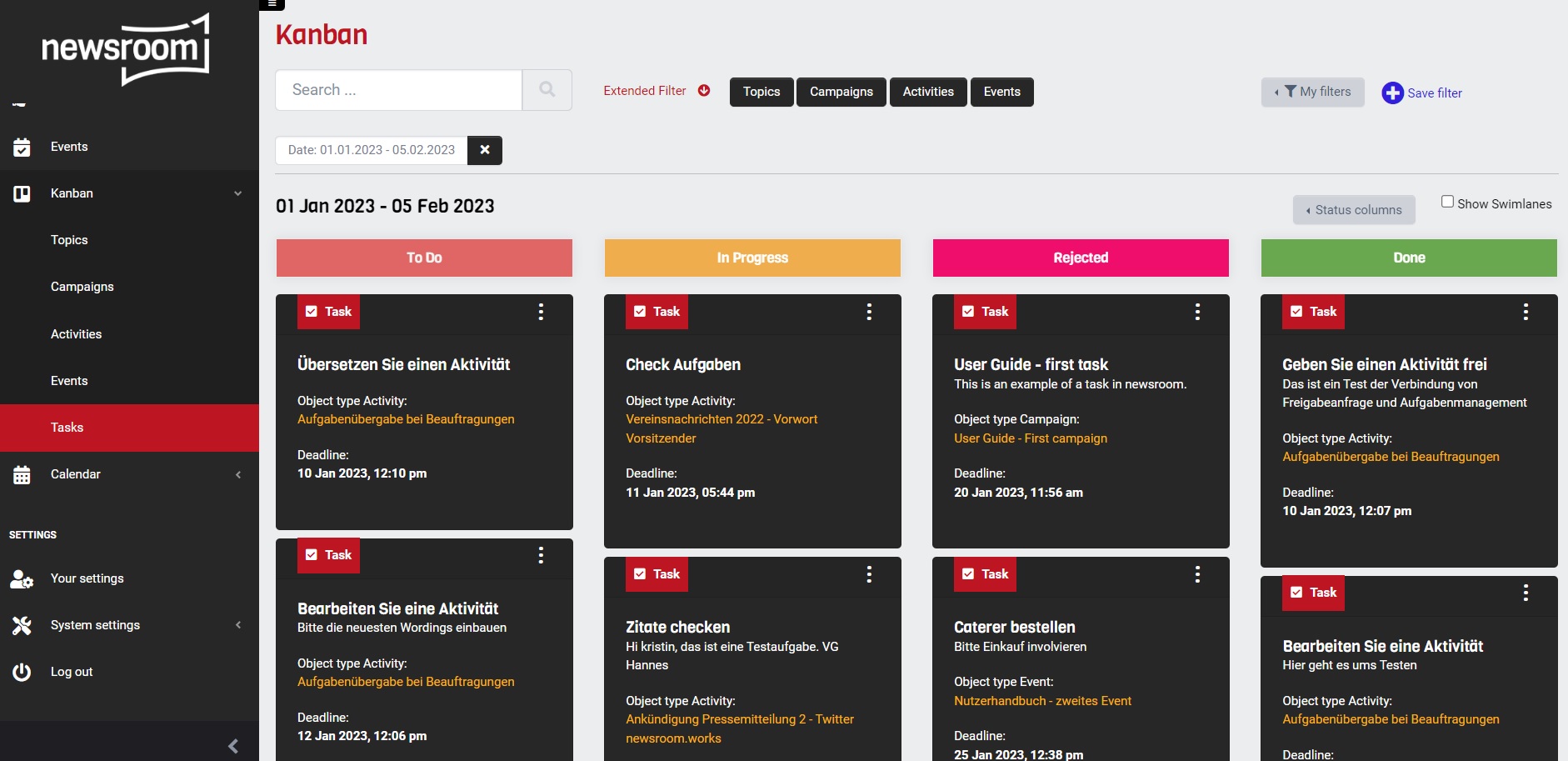 Get an overview of your communication activities with newsroom!
Know and steer the communication activities of your company with newsroom. Bring communicators from all departments, units and markets together to maximize the effectiveness of your communication.
Plan campaigns, activities and events
Create campaigns with communication activities and events for each topic. Define responsible persons and define the scope (units, markets, target groups).
Calendar
View topics, campaigns, activities, events, and tasks individually in the calendar – per day, per week, per month, per year. Edit entries directly in the calendar.
Kanban Boards
Use the integrated Kanban boards that have been adapted for communication planning: Control and monitor tasks as well as communication activities.
Task management
Keep an eye on your to-dos. Use newsroom to assign tasks to yourself or your teammates for activities and events.
Roles and rights
Customized views per role: Editor-in-Chief, Editor, Visitor. Users are assigned to units, markets or teams. Define for yourself which activity and event types or which target groups you want to manage and keep a special eye on.
Languages: user interface
The newsroom user interface is available in German and English. If desired, additional languages can be integrated into the user interface. Available in version Campus.
Notifications
In newsroom, you receive notifications of all new information that is relevant to you. Decide for yourself which additional notifications you want to receive by e-mail.
Single Sign-on
Use the practical single sign-on functionality via Microsoft Azure interface. Available in versions Atelier and Campus.
Export function
Export content in practical Excel documents. Optionally also in pdf format.
Create content in the content production area!
Create all the content you need for communication in flexible templates, coordinate them efficiently with experts and superiors and have them translated directly in the tool.
Create content
Use individual templates to create professional communication content, such as Internet and intranet articles, social media posts, press releases or speeches, directly in newsroom. Coordinate these in simple and clearly structured process steps directly in the tool. Have finished content translated into any number of languages directly in the tool.
Customizable templates
Create any kind of content for your communication. Use flexible templates that you can design as needed. Create professional communication content, such as Internet and intranet posts, social media posts, press releases, or speeches, directly in newsroom.
Status display
Set a status during production, e.g. "in process". Enter status information individually tailored to your processes in newsroom.
Order translations
A translation can be ordered directly within the tool – to be done by human translators or by machines. The translator provides the completed translation as a separate language version in the tool. This language version can be further edited as required (a new version is automatically created).
Invite experts
Invite any number of experts without additional user licenses via e-mail to review and edit content. Changes made by the experts are saved as a separate version.
Attachments
Video and audio files are added via links, e.g. via a cloud storage service. In addition, any number of files can be attached to a content item using the upload function.
newsroom: your communication hub!
Expand the functionality of newsroom with interfaces to other tools used in your company. In this way, newsroom becomes your control center to steer all communication activities of your company.
dpa-Agenda
Use the full power of topic and appointment planning: as a dpa customer, have the dates of "dpa agenda" displayed in the calendar within newsroom so that you can align your communication activities with the dates that are relevant to you.
Swat.io
Plan social media activities in newsroom and transfer them to the social media management tool Swat.io via an integrated interface.
Beekeeper
Use the interface integrated in newsroom to publish content on Beekeeper, the communication platform for mobile teams.
DeepL
Translate articles into any language via the integrated DeepL interface. Transfer the translated contributions via an integrated interface to the respective content management system or social media management tool.
WordPress
Plan internet or intranet articles for WordPress pages and transfer them to the content management system via the integrated interface – or publish them directly.
Custom interfaces
Do you need other interfaces to the tools you use in your company? For social media? For your intranet CMS? For media analysis? No problem! On request, we will program these individually.
Request a free product demo now!