If you have successfully logged in, the "Welcome Page" of "newsroom" will appear: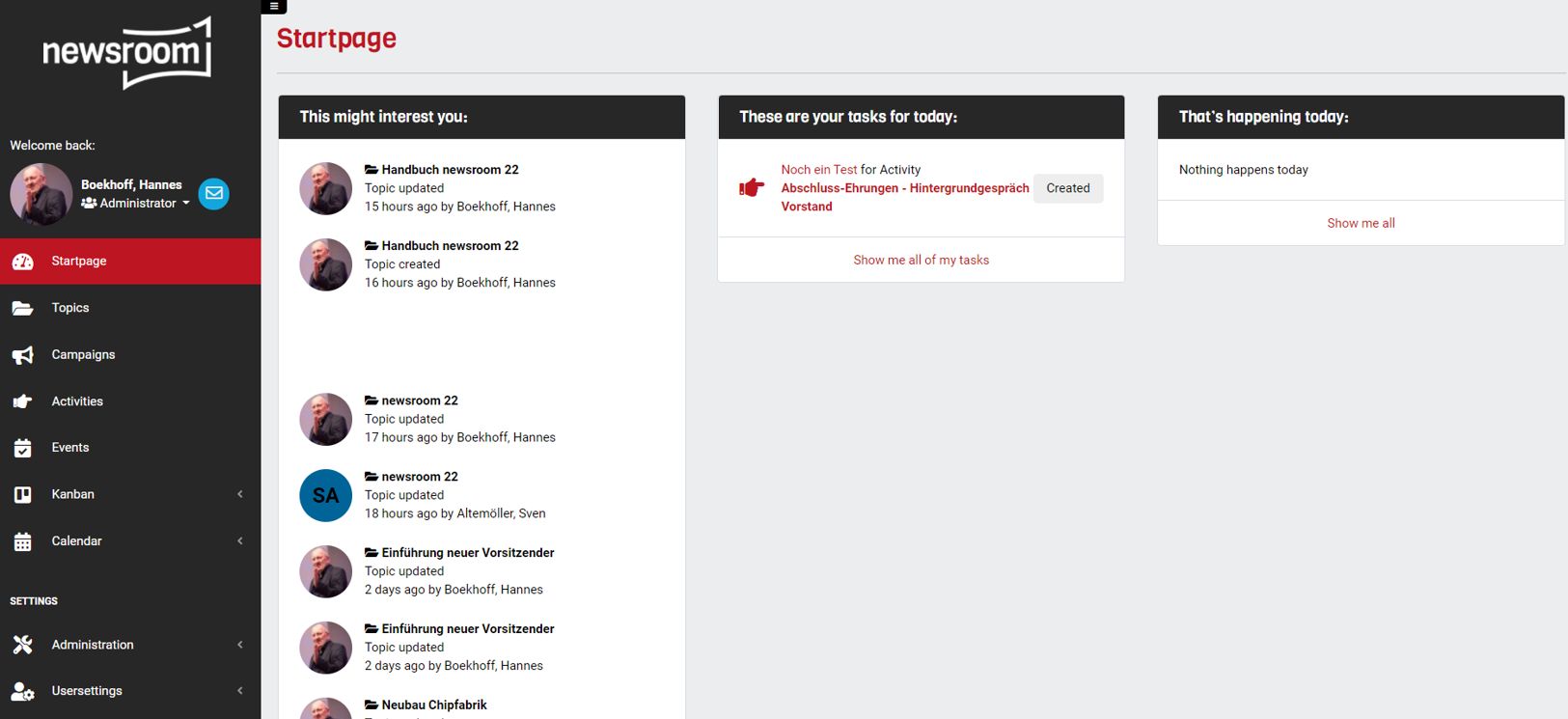 The menu on the left shows you highlighted in red which work area you are currently using.
At the top of each screen in every work area, you find the free text search field and the filter bar (except for the "Welcome Page").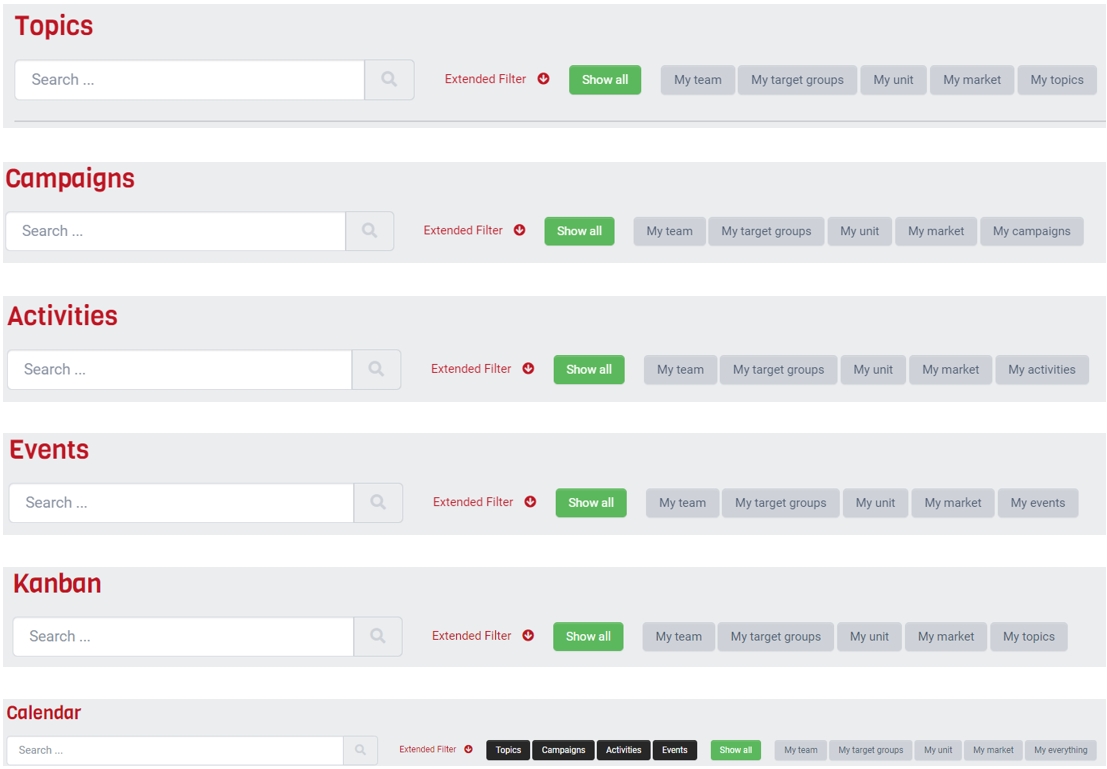 The search and filter area can be easily expanded and collapsed by clicking in the field "Extended Filter".

The work areas "Topics", "Campaigns", "Activities", and "Events" are all built on the same principle: Info cards are displayed in columns and rows.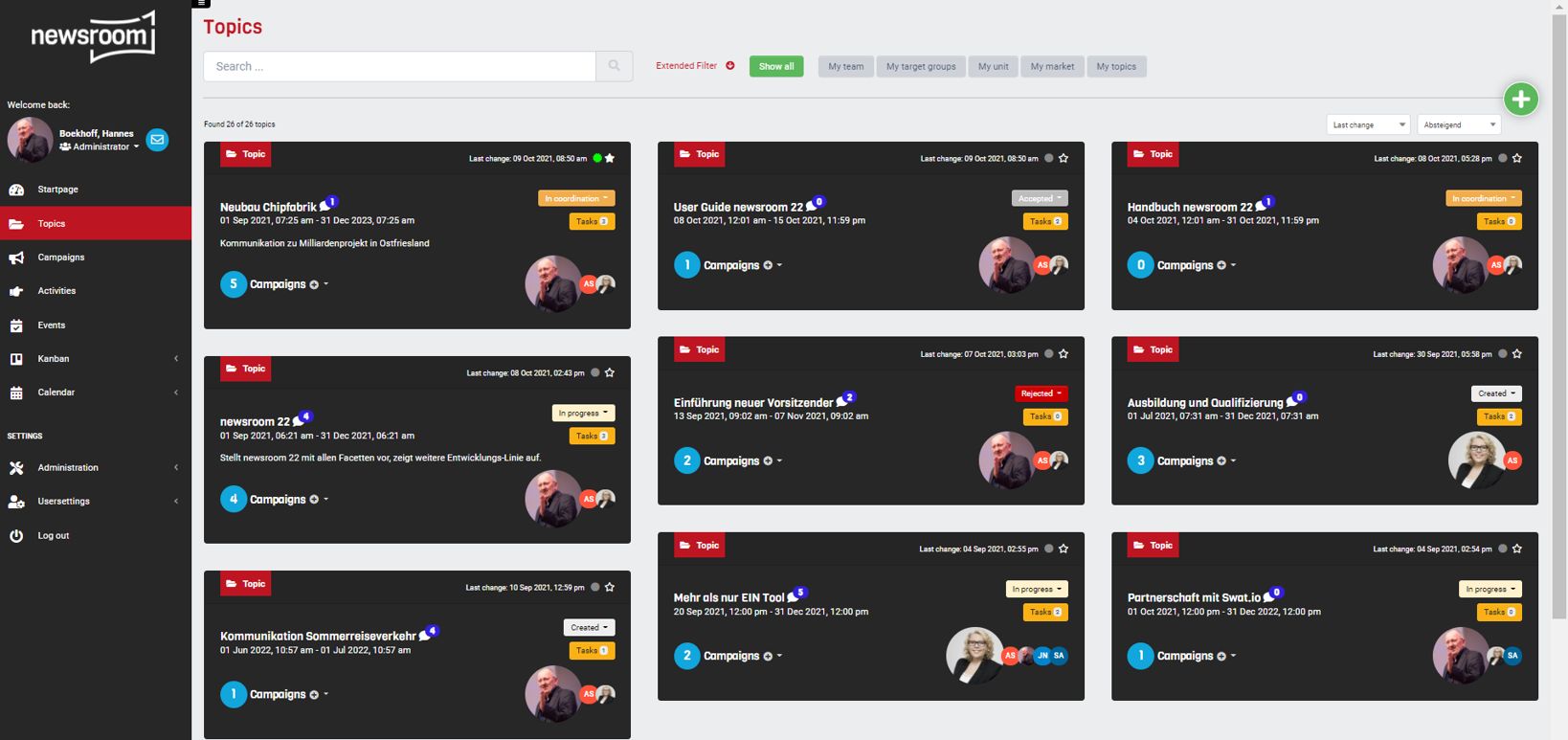 All cards show:
Title
Number of chat posts
Runtime
Status
Number of tasks
Owner
Number of connected items
If you click on the icon with the number of chat posts, the chat column opens. Here you can look at the posts, post new entries and reply to posts.
The chat column closes with a click left of the chat column.
A click into the status display opens a drop-down menu. Here the status can be changed with one click. After selecting a new status, the menu window closes automatically.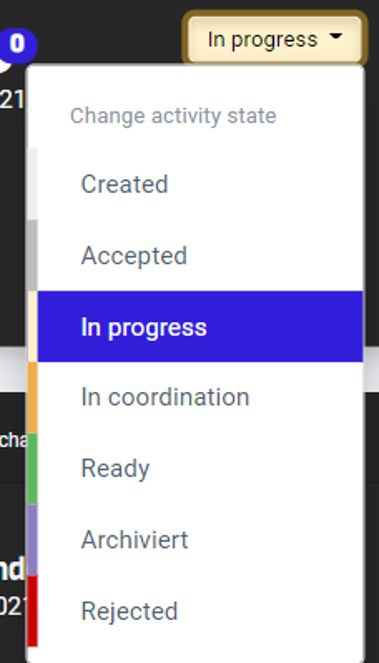 A click on the number of connected elements opens these elements – "Campaigns", "Activities", or "Events".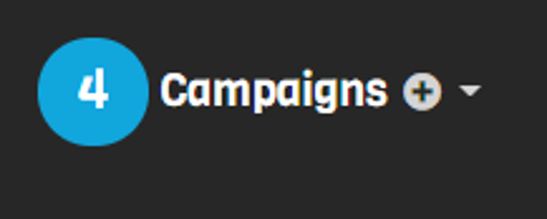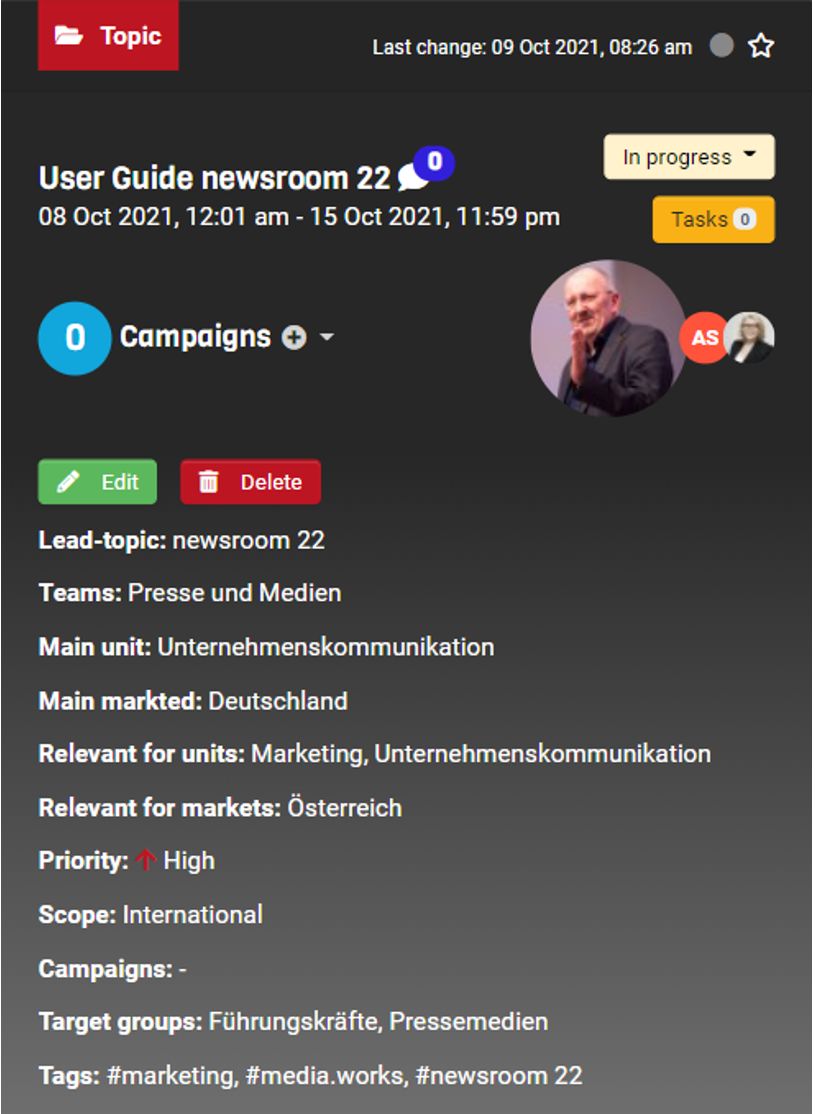 The cards can be opened and closed with a simple click. Open cards provide further information. Here you can open functions, too, by clicking in the available icons:
Edit
Copy
Delete
Create (if Content Module is enabled)
When you open or create "Topic", "Campaign", "Activity" or "Event", an input template appears. The input fields can be configured as needed in the backend (Administrator and Editor-in-Chief roles). You can show or hide them, adjust the order and cluster them.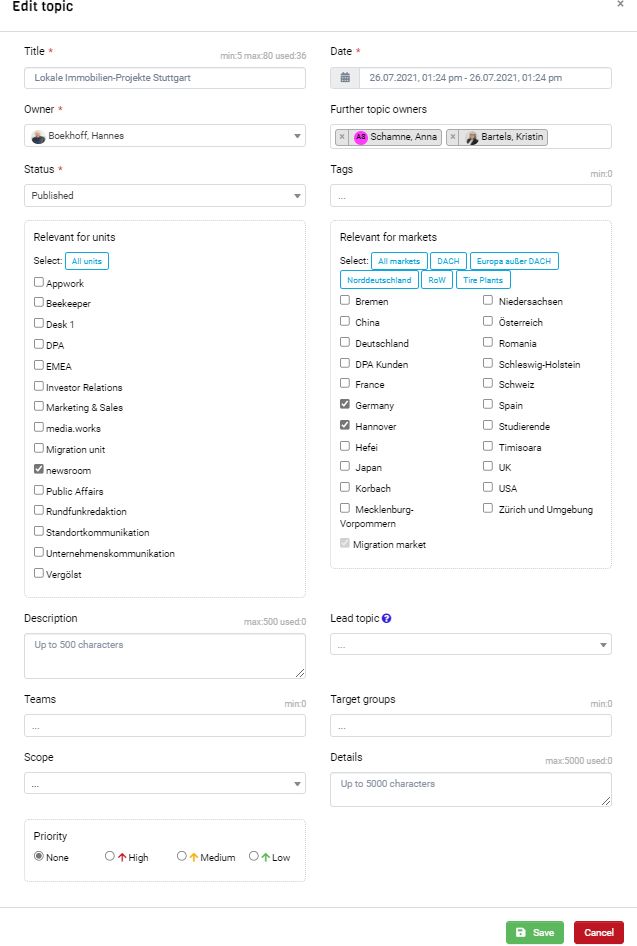 "newsroom" offers integrated Kanban boards. Boards for "Topics", "Campaigns", "Activities", "Events" or "Tasks" can be opened individually via the menu.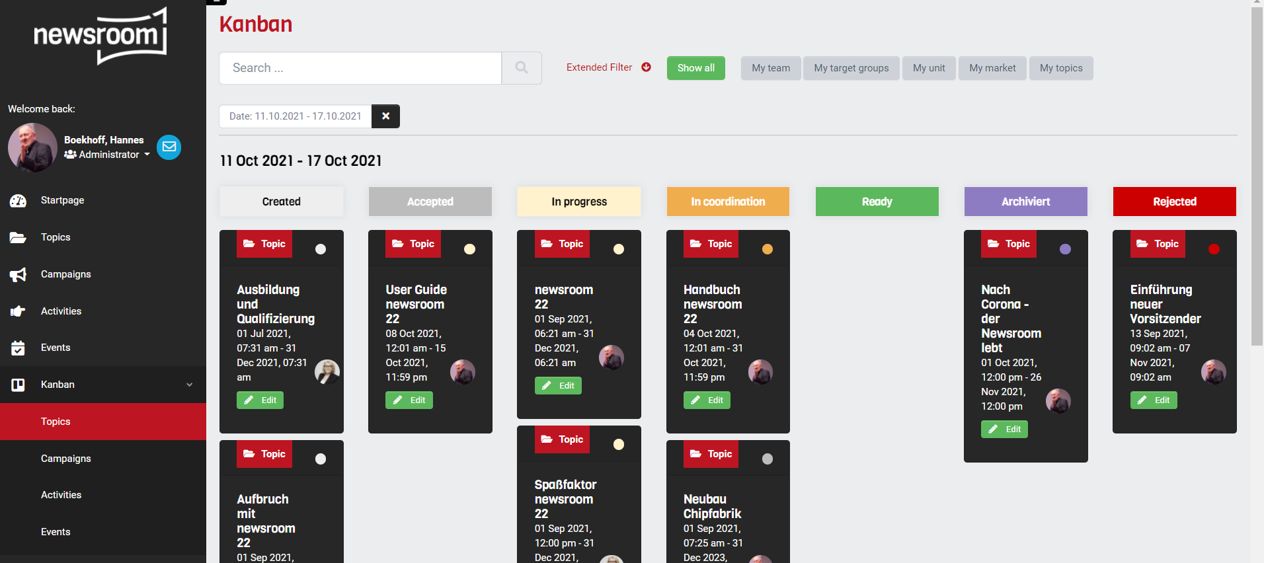 The basic structure of the Kanban boards is identical for each view: Underneath the filter area, cards are assigned to status levels. They can be easily moved by drag & drop.
The Kanban boards for "Activities" and "Tasks" provide timelines. Thus, you can drag and drop the cards horizontally (change of status level) as well as vertically (change of date). If you select a time span of more than 30 days in the filter, the board displays calendar weeks instead of days.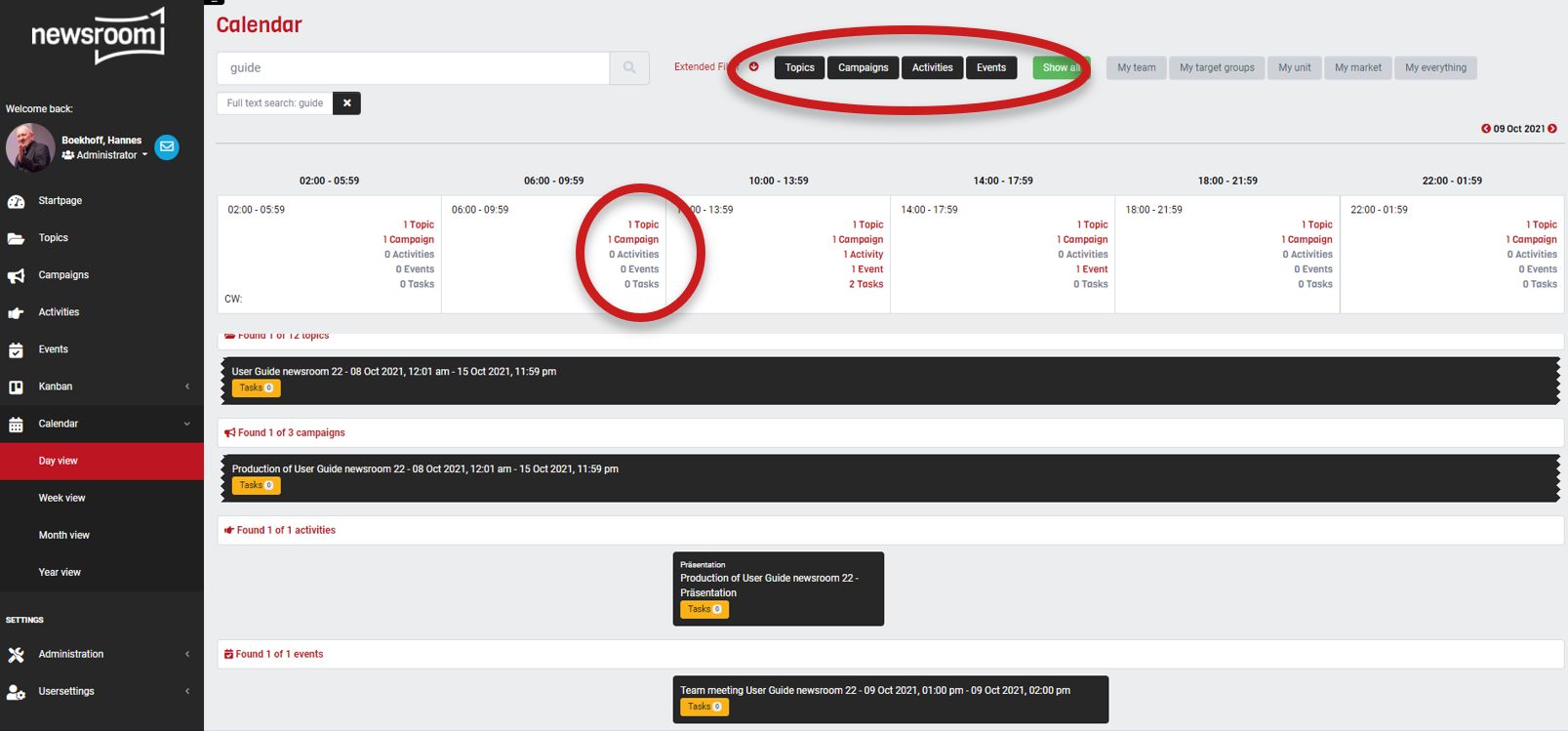 The calendar view in "newsroom" can be opened per day, week, month or year. The basic structure is always identical: Underneath the filter area, depending on the filter selection, it shows the number of planned "Topics", "Campaigns", "Activities" and "Events" as well as the number of "Tasks" is displayed cumulatively per unit of time (hours, days, weeks, months). Details are displayed in the four levels of "Topics", "Campaigns", "Activities" and "Events" with info cards. These four levels can be easily displayed or hidden by clicking on the respective filter button.